Hi! I'm Derek Hoppe, the sole proprietor of Koyo Digital, my freelance multimedia business based in Utsunomiya, Japan.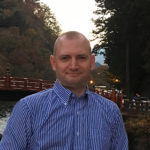 I believe, "The project comes first." By this I mean the quality of a project is the highest priority. It's not to say that budgets and time constraints aren't important, they most certainly are. It's just that when a decision needs to be made my first thought is what will result in the highest quality outcome as apposed to what's best for the bottom line. That's just how I roll.
My experience is derived from years of work in radio, television, internet services and the music industry. I'm currently facilitating a few websites and the last few years worked with independent musicians in Japan directing, editing and shooting their music videos.
Before moving to Japan I worked for PBS Hawaii as their Creative Services Coordinator. This involved administrative and production support for local live and prerecorded TV programs and advertisements. Previously I worked at Hawaii Public Radio engineering local talk shows, doing audio production, on-air announcing, and setting up broadcast and intake automation. I also worked in sales. Most notably at Hawaii Calls Inc., dba Hula Records and Kona Kai Distributing. And at ICS (Internet Concept Solutions) in Honolulu. This entailed setting up and coordinating marketing campaigns tying together broadcast, online and print media.
As a young man growing up in Minneapolis I played drums in local bands and was a co-foundering member of Big Trouble House, an Alternative rock band that toured the United States and Europe. We were on MTV's groundbreaking, 120 Minutes, program and were written up in Rolling Stone, Option Magazine and many other fanzines of the day. You can see more about Big Trouble House here.
If you think I'm the right person to work on your project please contact me now!
If you haven't gotten enough of me yet please click here to learn about my educational background.