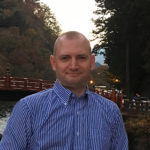 Hi! I'm Derek Hoppe, the sole proprietor of Koyo Digital, my freelance multimedia business.  My experience is derived from years of work in television, radio, internet services and the music industry. Below you'll find my work history, educational background, extracurricular activities and more! My offices are in Minneapolis, Minnesota, U.S.A. and in Utsunomiya, Tochigi, Japan. Thank you!

Work History:
Creative Services Coordinator, PBS Hawaii in Honolulu, Hawaii, 2005 to 2011
– Television administrative and production support
– Produced DVDs for fundraising events
– Produced a documentary about Jake Shimabukuro, an international ukulele virtuoso and composer from Hawaii. The program titled, Jake Shimabukuro's Musical Journey, is part of PBS Hawaii's local music series called Na Mele. It was awarded an Bronze Telly for use of music in a television program.
Hawaii Public Radio, Honolulu, from 2000 through 2005
– Audio production
– On-air announcing
– Control room monitoring, setup and audio transmission intakes
– Engineered local talk radio shows
– Designed and built the main audio production computer
Account Executive, Internet Concept Solutions in Honolulu, 2001 to 2002
– Sold ads and worked with clients on marketing campaigns
Sales Representative, Hawaii Calls Inc. dba Hula Records & Kona Kai Distributing Co. Inc. Honolulu, 1995 to 2000
– Sales and prospecting
– Setup and managed in-store events
Educational Background:
Bachelors in, "New Media Studies," from the University of Hawaii in 2002. A self created major combining courses from the art, telecommunication, video production, music and education technology disciplines.
Multiple Certificates of Completion from Pacific New Media held at the University of Hawaii in Honolulu, Hawaii from 1997 through 2002 for website and video production.
Certificate of Completion from lynda.com for Mobile Web Essentials in 2013.
Online courses are ongoing. I'm always looking to adapt new technologies to my services. I follow the latest trends in  technology, pop-culture and music.
Extracurricular Activities:
January 2010:  Panelist for Documentaries and Public Broadcasting: A Workshop with Judith Vecchione, hosted by Pacific Islanders In Communications at The Hilton Waikiki Prince Kuhio Hotel in Honolulu. Evaluate independent films and gave feedback to producers.
August 2009:  Panelist for Pacific X-Change, a workshop hosted by Pacific Islanders In Communications & The Independent Television Service (ITVS) at The Hilton Waikiki Prince Kuhio Hotel in Honolulu. Evaluate independent films and gave feedback to producers.
May 2007:  Attended PBS Showcase, held at the Hyatt Regency in Dallas, Texas. A conference with more than 800 participants which featured nationally recognized speakers, programming and promotional information, professional development and networking opportunities. Highlights included the 2007 Fall national broadcast schedule and programming information, the latest techniques in promotion, education and interactive platforms.
Early Years:
As a youth I played drums in Minneapolis bands. The most notable was Big Trouble House.